KOMTRAX REMOTE MONITORING
McHale Plant Sales offer KOMTRAX – technologically advanced satellite monitoring systems. KOMTRAX can provide you with:
KOMTRAX is a system that allows you to view information about your Komatsu equipment directly on your computer. This information is downloaded via satellite and will keep you fully informed on the type of work your machine is doing. KOMTRAX is most commonly used for the following key features:
In today's fast changing environment information is key and the status and location of your equipment is paramount. KOMTRAX systems can track your equipment in the field and maximise output through increased efficiencies and timely maintenance.
Read more about Komtrax and how it the globally used fleet management system came to into existence.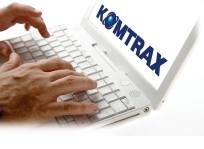 1. GPS satellite provides position information to your equipment in the field.
2. The KOMTRAX unit in your machine gathers engine data and position and sends this information to the satellite.
3. The communication satellite transmits information to the KOMTRAX data centre.
4. The KOMTRAX data centre stores and distributes the information throughout the machine life.
5. You can access the information gathered from your machine directly via the Internet from the KOMTRAX data centre.
WHAT CAN KOMTRAX DO FOR ME?
VIP GOLD CARD CUSTOMER PROGRAMME