We have an exciting opportunity for someone to join the team at McHale Plant Sales, one of Ireland's largest equipment suppliers.

This is a trainee role which will allow the successful candidate the opportunity to work with some of the world's leading equipment manufacturers while learning the industry directly from some of the most experienced people in the business.

McHale Plant Sales is the distributor of Komatsu construction & forestry equipment, Metso Outotec crushing and screening plants, Merlo telescopic handlers, and Terex Ecotec waste processing machinery.

This position may be suitable for someone with a related mechanical qualification who wishes to pursue a career in capital equipment sales.

The role will entail the following,

– Sales of new and used equipment to existing customers and developing new business across the relevant industry sectors.
– Advertising and Marketing of equipment and services through digital and print platforms and social media.
– Machine stock and attachments inventory control and monitoring including recording of goods inwards and outwards.
– Maintaining and improving the premises, including machine display areas and yard layout.
– Preparing machines for sale, including photographing, video recording and machine assessment.
– Trade show set-up and attendance.
– Proactively dealing with customer queries and requests and liaising with various internal departments on same.

This is a full time position, based at our Dublin depot in Rathcoole.

Candidates should have a good knowledge of, and passion for plant and machinery. Product training will be provided.

McHale Plant Sales operate from two depots strategically located in Tipperary and Dublin

Further company information is available at www.mchaleplantsales.com


MCHALE PLANT SALES – RATHCOOLE, COUNTY DUBLIN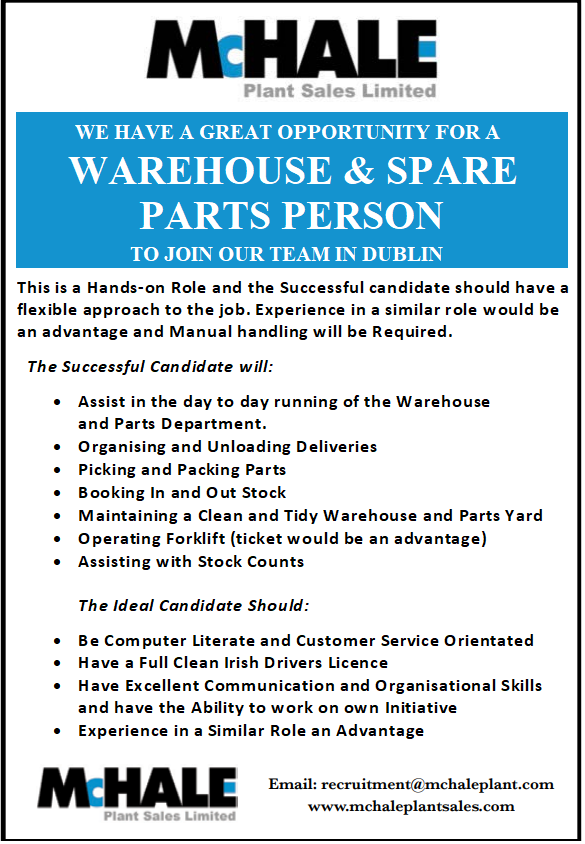 Job Types: Full-time, Permanent
CVs should be e-mailed to: recruitment@mchaleplant.com
MCHALE PLANT SALES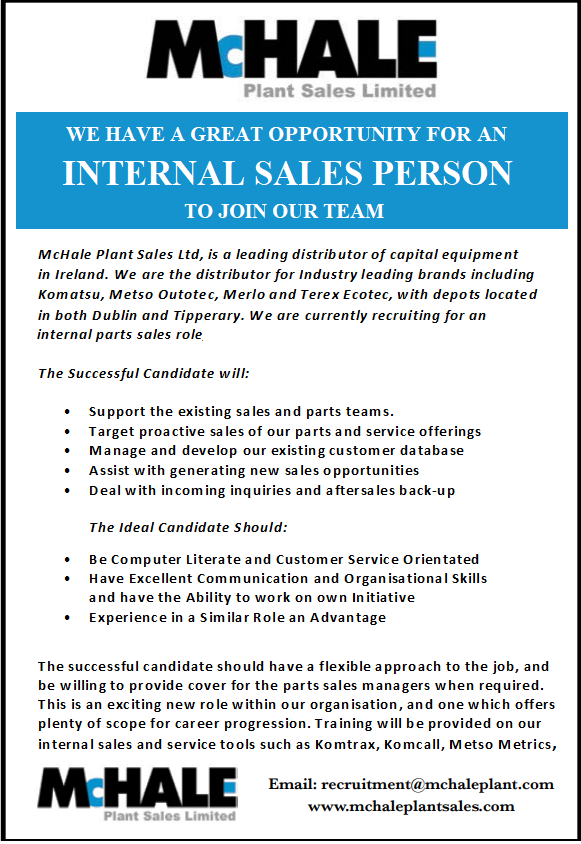 Job Types: Full-time, Permanent
CVs should be e-mailed to: recruitment@mchaleplant.com
McHale Plant Sales, Distributor of Komatsu Construction and Forestry Equipment, Metso Crushing and Screening Equipment, Merlo Telescopic Handlers, Terex Ecotec Waste Processing Equipment and Topcon machine control systems wish to recruit for the following position,
Komatsu Mobile Service Engineer
McHale Plant Sales covers Ireland and Northern Ireland (some products) for Sales, Parts and Service, operating out of our two main depots located in Birdhill, Co Tipperary and Rathcoole, Co Dublin.
We currently have a number of nationwide positions available for Construction Plant Service Engineers. This role will be primarily mobile based, covering an assigned territory based on the Engineers location. This role will also involve working within our workshop as required.
Job Role will mostly be focused on the service, repair and maintenance of the Komatsu range of Construction equipment, including, Excavators, Dump trucks, Bulldozers and Wheel Loaders.
The opportunity will also be available to work on the other brands we distribute, which include
Metso ranges of mobile Crushers and Screeners.
Terex Ecotec ranges of mobile Waste Shredders, Screeners and Material Handlers
Komatsu Forest range of Harvesters and Forwarders
Merlo range of Telescopic Handler
Topcon machine control systems
A wide range of attachments
At McHale Plant Sales, our Service Engineers are backed up by a highly experienced service department and a continuous training environment.
Applicants should be qualified with Minimum 1-2 years' experience in heavy plant.
Requirements:
Have a good knowledge of electrical, hydraulic and mechanical troubleshooting and repair,
Must be competent in following electrical and hydraulic schematic diagrams to diagnose faults.
Competent in welding and fabrication.
Computer Literate.
McHale Plant Sales distributes and supports Komatsu construction & forestry equipment, Metso crushing and screening plants, Merlo telescopic handlers and Terex Ecotec waste processing machinery.
We are currently recruiting for the following position:
Yard Operative / Heavy Plant and Equipment Cleaner
This position will be based in our Birdhill depot, Co Tipperary.
This position will involve:
Power-washing and cleaning of large construction equipment units when they arrive from site.
Wash and clean new and used construction machinery to prepare them for sale.
Ensure that the condition of our new and used machinery display area is kept clean and organised.
Yard duties to include forklift operation for loading and unloading trucks, and assisting with work within our workshop.
Keep work areas clean, tidy and organised, and safe from hazards in accordance with health and safety guidelines.
Ability to operate heavy plant such as diggers, wheel loaders, etc. an advantage. Previous experience in a similar role desirable.
Job Type: Full-time